SALES & SHOWINGS – DORAN CAIN (250)342-1629
FAIRMONT RIVERSIDE ESTATES
Recognized as the most desirable address in the Columbia River Valley, this private gated community provides the discriminating owner with the very best lifestyle imaginable.
The architectural controls ensure a consistent high-quality community. The waterfront home sites of course provide for fishing, swimming or boating right from your own front yard, and the Aviation lots provide the opportunity to park your airplane on your own property.
All of the home sites in Phase One, Two and Three have been sold, yet the demand for this precious and rare opportunity is still strong. To satisfy this need, we have added 31 new lots of which 15 are waterfront in Phase 4 and 5.
If you have ever dreamed of living right on a pure fresh stream with the Spectacular Rocky Mountains as your backdrop, Riverside is the place you should be.
INVESTMENT OPPORTUNITY
Few investments are more successful than Real Estate, especially waterfront and golf course properties.
Recent changes in Environmental regulations prohibits future residential homes from being constructed within 30 meters from a body of water.
Because Riverside Golf Estates received its approval prior to the regulatory changes, it offers an opportunity which will never be offered in British Columbia again, and that is to be able to build near the Columbia River.
NO BUILDING COMMITMENT TIME LIMIT
Now is the time to purchase your future dream home site, and watch the value grow until you choose to build.
EASY FINANCING TERMS AVAILABLE
With as little as 25% down and a competitive interest rate, you can secure your prize possession at today's value.
Fairmont Riverside Estates – A Gated Community
Phase 4 & 5
Classic view lots – Golf or Riverfront from $139,000
Please see below for Strata lot numbers, sizes and layout.
Fairmont Riverside Estates offers you a unique lifestyle opportunity – high quality, secure residential living in one of Canada's finest, year-round recreational areas. The Estates surround the spectacular Riverside Golf Course, on the peaceful Columbia River minutes from Fairmont Hot Springs Resort, Canada's largest and finest four-season destination resort.
When you choose to build your own private vacation or permanent home, you are assured the finest in community living. The number of lots and population are strictly limited, and to ensure design integrity in keeping with the development and natural environment, all home plans must be approved within the aesthetic guidelines of the Fairmont Riverside Estate's Architectural Review Board.
Click to Download the Lot Chart
| | | | |
| --- | --- | --- | --- |
| Strata Lot # | Price | Sq. Meters | Sq. Feet |
| 93 | SOLD | 621 | 12,917 |
| 94 | 349,000 | 652 | 15,931 |
| 95 | SOLD | 703 | 7,567 |
| 96 | SOLD | 718 | 7,729 |
| 97 | SOLD | 710 | 6,695 |
| 98 | SOLD | 703 | 7,029 |
| 99 | SOLD | 678 | 7,298 |
| 100 | SOLD | 684 | 7,739 |
| 101 | SOLD | 882 | 7,642 |
| 102 | 269,000 | 1820 | 7,556 |
| 103 | 289,000 | 1020 | 7,298 |
| 104 | 289,000 | 1070 | 7,363 |
| 105 | 319,000 | 729 | 9,526 |
| 106 | 459,000 | 727 | 19,590 |
| 107 | 379,000 | 763 | 10,872 |
| 108 | 379,000 | 789 | 11,517 |
| 109 | SOLD | 909 | 9,784 |
| 110 | SOLD | 727 | 7,825 |
| 111 | 139,000 | 764 | 8,224 |
| 112 | 139,000 | 789 | 8,493 |
| 113 | 149,000 | 907 | 9,763 |
| 114 | SOLD | 1,150 | 12,379 |
| 115 | SOLD | 1,050 | 11,302 |
| 116 | SOLD | 991 | 10,667 |
| 117 | SOLD | 942 | 10,143 |
| 118 | 149,000 | 891 | 9,537 |
| 119 | 149,000 | 912 | 9,742 |
| 120 | 149,000 | 983 | 10,581 |
| 121 | 159,000 | 1,046 | 11,194 |
| 122 | 149,000 | 1,120 | 11,954 |
| 123 | 169,000 | 1,570 | 12,056 |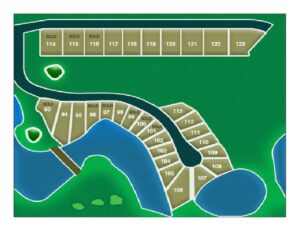 PHASE 4 – 21 Lots

(15 waterfront)

Phase 5 – 10 Fairway Lots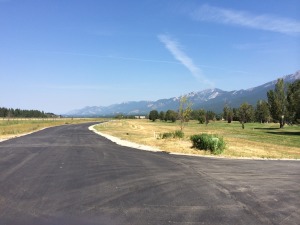 View from lot 107